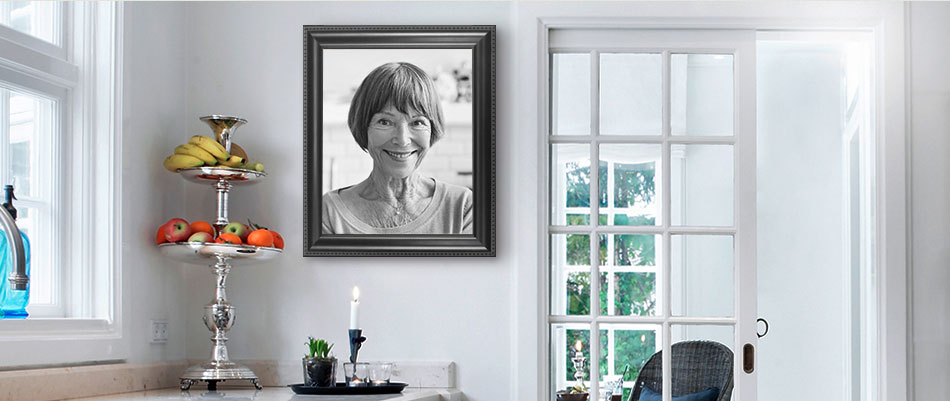 Photo Prints and Canvas Prints
We've been perfecting photo prints since 2002. Photo prints are among our most popular items and for good reason--they're wonderful accent pieces for home decor, make thoughtful gifts, and are made to last. Printing photos on canvas is more than a job for us. It's what we're passionate about, and it shows in the way we care about creating the perfect photo to canvas art for you.
How Photo Prints Are Made
Most photo prints will be made in our Raleigh, North Carolina, facility by a team of dedicated professionals with industry experience. To get your own photo to canvas art, simply visit our online order form, select the size of canvas you want, add any other customization options, upload an image, and let us take care of the rest. Canvas On Demand offers a variety of sizes, including custom sizes, in our traditional canvas wraps and an expansive selection of Premium Gallery Wrap sizes to fit the dimensions of nearly any image.
Traditional gallery wrap canvases can be printed in whole inch sizes ranging from 8"x8" up to 55"x100." Traditional canvases come in two frame widths: thick wrap and thin wrap. Thick wrap canvases have frames that are 1.5" thick and work well for any size canvas print, especially larger ones that may require a sturdier frame. Thin gallery wrap canvases have frames that are 0.75" thick, which is perfect for smaller size canvases or canvases you intend to have framed. Though they work well for smaller canvases, the thin frame may not adequately support a large photo print.
Premium Gallery Wrap canvases are our proprietary product, made of high quality canvas and finished with a black matboard backing for maximum durability for your photo print. Because of their patented design, Premium Gallery Wraps are available in select sizes only. The sizes offered are our most popular and will fit nearly any photo you want printed on canvas.
How to Choose an Image for Canvas Photo Prints
Choosing an image to print on canvas is an essential part of the process. For the best quality photo prints, we recommend using an image that's at least 1 MB in size or larger. Using high quality images will help your photo prints look their best. Smaller images, like those taken from Facebook or other social media sites, have been compressed and will likely appear pixelated if they are used for printing photos. This means you will lose some of the detail of the photo. For example, a pixelated photo may make facial features or essential parts of the photo appear to be made of tiny squares.
If your image is a large file size, there are a few other things you can do to ensure it will look good when enlarged. The first thing you can do is check for imperfections that may become visible when your photo to canvas print is made. For photos of people, be sure everyone's eyes are open and that they don't have anything in their teeth. For photos of babies, check to make sure that there's no drool or anything else that might detract from the subject of the photo. For expansive landscape photos, look closely to ensure there's nothing in the photo that you don't want to show up when the picture is enlarged, such as sunbursts or people in the distance.
If you upload a photo that's been scanned, especially an older image, ensure that there's no dust or debris marring the image.
If you find an imperfection in the photo you want enlarged, you have a few options. You could select a new photo to print or you may opt to use the retouching services offered by Canvas On Demand. Our specialists can replace the background of your image to make the subject more prominent or to remove "noise" from the background. Our retouching specialists can also fix most older images that have been ripped, have folds or creases, or have specks of dust or debris on them.
Canvas On Demand has a dedicated team of professionals who specialize in making your photo to canvas dreams come true. That team includes people who are able to retouch your photo to ensure that it looks the way you want it to when printed.Find out more about our enhancements and restorations.
How to Order Photo Prints
To order canvas photo prints, simply visit the Canvas On Demand homepage and select the option to "Order Canvas." From there, you'll be guided through the process, including selecting a type and size of canvas, adding any additional services as needed, and uploading your photo. You'll then move on to complete your order and we'll take it from there! Your order will be reviewed, and if we notice any issues or have any questions, we'll contact you before proceeding with your canvas prints order. Canvas On Demand has a customer service team available to help with any questions during the ordering process.
After you order your photo to canvas prints, you'll receive a confirmation email letting you know we received your order. And we'll get to work printing photos on canvas. The art of creating canvas photo prints is one we've been working on since 2002. Once your order is received, our team will review it for any issues before giving it to our printing and framing teams, who will take care of the rest. Your canvas will ship directly to you. Most canvases ship within five to seven business days or less.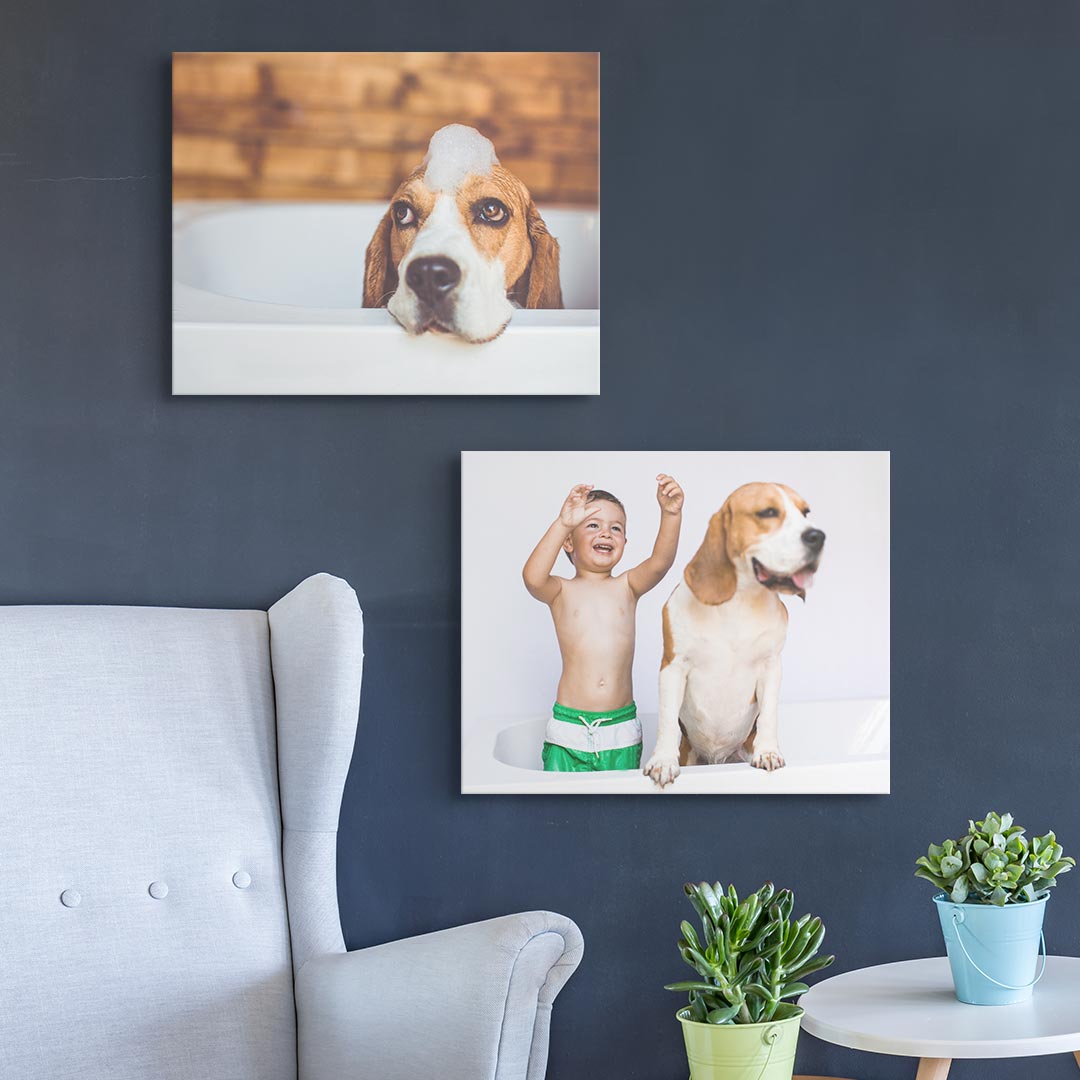 Museum Style Gallery Wrapped Canvas
---
Testimonials from People Like You
Check out what our customers are saying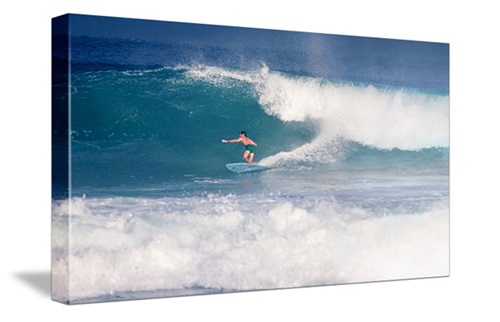 Jennifer from Jacksonville
The service at Canvas On Demand was awesome! I uploaded the discolored picture one evening and by the next day a real person from their helpful team contacted me. We discussed what level of retouching would be needed and the best size canvas to order. It could not have been easier! Once I received the canvas, I contacted the service team and was able to upload the repaired picture for my own file. Now I'll never have to worry about printing a discolored picture again! Thank you Canvas On Demand.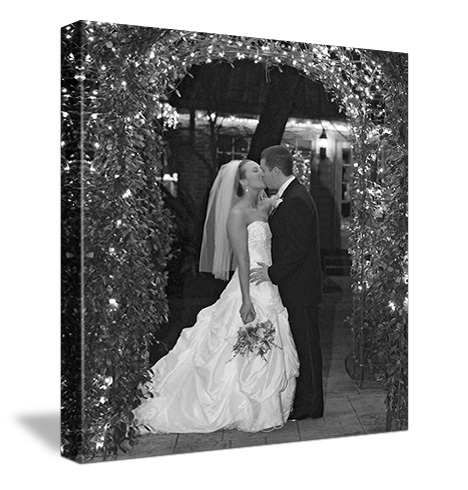 Ashley from Dallas
I received my Canvas, and it looks BEAUTIFUL!! I gave it to my best friend as a wedding anniversary gift and she loved it as well! Thanks again, I actually purchased another Canvas this morning!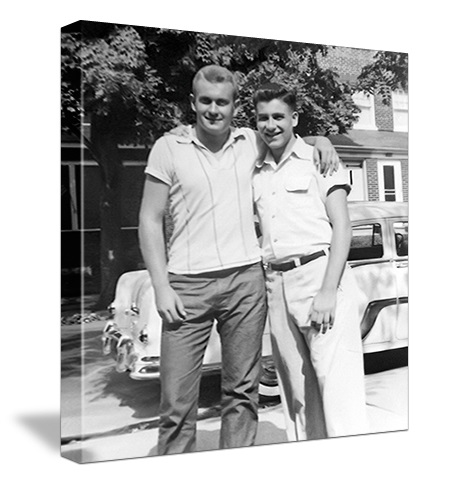 Mary from Remsenburg
Great service and great results....will recommend to all my friends! Rep was extremely helpful over the phone as well.
Denise from
Extremely pleased with the service and suggestions by the staff. Could not be any happier and will definitely use Canvas on Demand in the future.
Harvie from
I thought the website was self-explanatory and easy to use, the customer service was gracious and prompt, and I've been very happy with the finished product (including how well it was wrapped/packed for shipping).