Create Stunning Canvas Prints From Your Wedding Photos
Chances are you have hundreds, maybe thousands of wedding photos. Canvas on Demand has been the industry leader for over a decade in transforming digital images into celebrated canvas paintings. Even better, we often offer canvas deals so that you can get the best price for your artwork!
What would be a better art addition to your home than featuring the two people who built it? From THE kiss to dramatic silhouettes and gentle embraces, creating a gallery wrapped canvas will immortalize the moment. You can enhance your wedding photos and images in many ways including:
| | CANVAS ON DEMAND | "THE OTHER GUYS" |
| --- | --- | --- |
| Quality | Artist grade canvas using archival inks; UVB protectant spray to protect against fading and moisture; guaranteed for 100 years. | They'll warn that sunlight will make their canvases fade and don't tell you what kind of materials their product is made from. |
| Support | Toll free number with friendly image experts; live chat, email, Facebook, Twitter, Google+, Instagram, and Pinterest support are also available. | The other guys only allow you to contact them by submitting a form on their website. They'll take your orders, but not your calls. |
| Return Policy | 365 day, money back satisfaction guarantee; we'll fix it, print a new image, or refund your entire order. | Only a 30-60 day guarantee; only store credit if you aren't satisfied with your canvas. |
| Custom Sizes | We can print any size (in whole inches) from 8x8 to 55x100 inches! | If your image doesn't work with their available sizes, your image may get cropped poorly. |
| Framing Options | High quality decorative frames as well as contemporary floating frames are both available in four classic finishes, custom made in the USA. | Stock frames that sit on a shelf until a customer orders one. If you see a frame you want, it's likely only available in a few standard sizes. |
| Canvas Depths | We offer three canvas depths: 0.75 inch thin wrap, 1.5 inch thick wrap, and 2.5 inch chunk wrap options. | Only available at 0.75 inches, which can buckle over time at large sizes. Canvas On Demand will inform you if a thicker canvas is required for lifelong integrity. |
| Licensed Art | Our sister site, GreatBIGCanvas.com, has over half a million beautiful licensed images to complete your decorating needs. | Only one type of product instead of providing all of your wall art needs like Canvas On Demand and Great BIG Canvas. |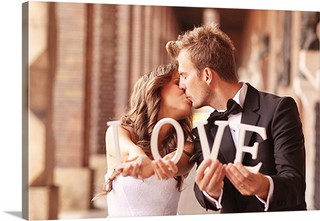 Museum Style Gallery Wrapped Canvas
---
Testimonials from People Like You
Find out how people just like you enhanced their wedding photos by transforming them into canvas prints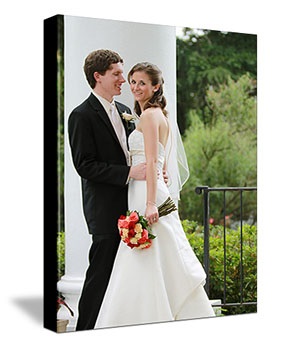 Duncan from
Our experience with Canvas on Demand was wonderful. After ordering, we received two emails letting us know that our size choice was a bit too small for the photo and that a black border would be a better choice for the canvas piece. They then told us they would make these changes to make our canvas perfect at no extra cost to us! When we received the canvas, we both were so happy with the result. The staff truly was interested in providing the best possible product and they ensured that without additional costs or strings attached. We were truly impressed and would highly recommend the service to anyone.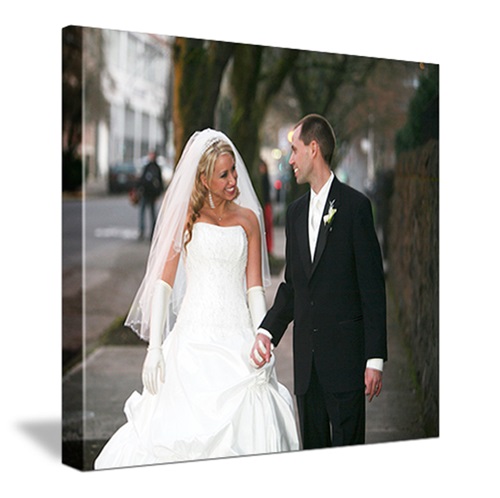 Jennifer from Damascus
I have now become a veteran of Canvas on Demand and it is the only photo website I will use to create my canvas prints. I love the user-friendly website, the prompt delivery and of course, the beautiful image that is created!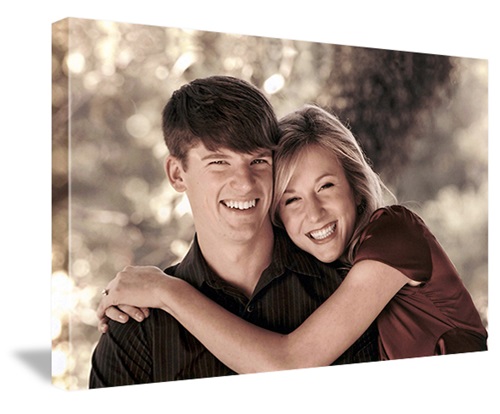 Kathy from Pelham
This was a sepia tone photograph and I was concerned that the color/clarity would be compromised when it was transferred to canvas. I couldn't be more pleased with the canvas, it turned out perfect. The service and turnaround time were both excellent. I appreciate that the canvas size was adjusted, without any additional cost, for proper proportions.